Precision Medical 1/2 - 15 LPM Fixed Flow AIR Flowmeter, DISS Female Hand Tight, with 50 PSI Auxiliary Valve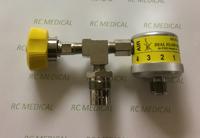 Precision Medical 1/2 - 15 LPM Fixed Flow AIR Flowmeter, DISS Female Hand Tight, with 50 PSI Auxiliary Valve
It's Durable. The lack of a flow tube and the durable metal body prevents breakage problems long associated with standard flowmeters.
It's Compact. The compact size allows the unit to fit into tight headwall areas and makes it virtually damage proof when other equipment is installed.
It's Accurate. The patented multi-spring technology insures accuracy at every flow setting without the need for a visible float as in thorpe tube flowmeters.
It's User-Friendly. The knurled flow adjustment knob and the large, easy-to-read numbers make flow adjustment easy.
Part Number: 7MFA2003PTO
Product Price
$91.00