Metal Nut and Nipple with Chain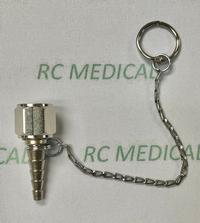 1 Piece Swivel Metal Nut and Nipple with 6" Chain
DISS 1240
February 17, 2017
Precision Medical, Inc. and Medical Fittings 300 Held Drive Northampton, PA 18067
To Whom It May Concern:
This letter is to state our tubing nipple with chain 0159C is not disposable nor is it intended as single patient use.
The chain is made of stainless steel and the tubing nipple and nut is made of nickel plated brass. These materials are durable medical fittings and are not meant as single patient items and can be cleaned and wiped down as are the flowmeters these devices are attached and used with.
There is no label on any of the packaging to indicate that they are intended to be disposable or used for a single patient.
Reusable tubing nipples are durable if sterile processing is indicated (with the tubing nipple removed from the flowmeter and the "O" ring removed from the tubing nipple).
Reusable Tubing nipples are intended to be attached to a flowmeter (oxygen or air) and can be wiped down like the flowmeter. This includes Quaternary cleaner wipes, Hypo-Chloride wipes. PDI wipes are acceptable for disinfection use. Soap and water is also appropriate for cleaning.
Precision Medical, Inc.
Part Number: 0159C
Product Price
$20.00